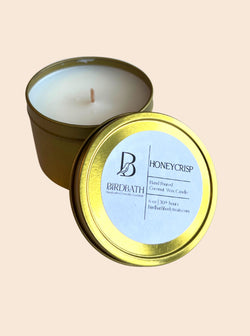 Honeycrisp Coconut Wax Candle in Gold Travel Tin
Bring the smell of nature home with an exclusive 6 ounce travel tin Honeycrisp scented  candle from Bird Bath Body Treats.  Candles are 
hand-poured in small batches using high-quality coconut wax. Coconut wax is a renewable and sustainable resource, making it a more environmentally-friendly choice than many other types of wax. It also burns cleanly and evenly, producing minimal soot or smoke. This makes it a healthier option for both you and your home. 
Scent Notes:
Green leaves have a fresh, slightly vegetal and slightly earthy scent. Apple is a fruit that has a sweet, slightly fruity and slightly floral scent. Pear is a fruit that has a sweet, slightly fruity and slightly floral scent.
Combined, these scent notes would create a sweet and fresh aroma. The green leaves would add a fresh and slightly vegetal element to the scent, while the apple and pear would add a sweet and fruity layer. This candle could be perfect for creating a fresh and uplifting ambiance in a room. The combination of the sweet and fruity notes with the freshness of the green leaves could make this candle a popular choice for those looking to add a touch of brightness and cheer to their home.
6oz in Gold Travel Tin
30+ Hours of Burn Time
100% Natural
Cruelty Free
Paraben Phthalate-Free
Vegan
100% 5A Natural Mulberry Silk
Standard 100 by OEKO-TEX® Certified Non-Toxic so you know it is safe for you and our environment
Machine Washable and Easy to Care For
Extra Luxurious 19 momme silk weight
Thermoregulation for Perfect Sleep Temperatures
Moisture-Wicking to Keep You Cool and Dry
18-Amino Acids Nourish Your Skin
Quick Dry Keeps Sweat off of You
100% Biodegradable When Discarded Won't Leave a Trace on Our Earth
Delivery, Exchanges and Returns are Free for all orders in the Contiguous United States. Orders ship the next business day. Items will be shipped in 1 box unless otherwise noted.
Shipping Timing:
Contiguous U.S.: FREE Standard Shipping via Fedex or UPS
Non-Contiguous U.S: 3-5 Day Shipping vis USPS
Worldwide: UPS Shipping as quoted on the site. Please note Border Duties are the responsibility of the buyer. We have partnered with ZONOS to provide prepaid duty option. In this case your goods will be delivered duties paid. 
You can return or exchange your product up to 30 days after receiving your order. Simply email us at hello@moresunday.com for us to email you a prepaid label. Once we get the items back to our warehouse we can process your exchange or refund. Make sure that the products are not worn, washed or damaged.